News, opinion pieces and statements authored by Resource Africa, Community Leaders Network members, and guest contributors, from whom we welcome hosts fresh ideas and new perspectives on topical issues in conservation, rights, and development in Southern Africa.
The views in the guest author posts are the authors' own and do not necessarily represent those of Resource Africa
If you have a perspective on a topical issue and would like to contribute an opinion piece, please refer our blog guidelines, and email us info@resourceafrica.net
Time for Nature World leaders must approach development with a...
Read More
Media coverage about  sustainable use, CBNRM, rural community rights and livelihoods, COVID-19 impacts, conservation models in the face of threats to wildlife populations in Africa.  This content is intended to inform, to introduce new ideas and approaches and contribute to constructive debate about these issues.
Time for Nature World leaders must approach development with a fresh perspective to save wildlife   By Maxwell Gomera The dulcet, almost musical voice of...
Read More
Facts matter: conservation scientists debunk myths about trophy hunting 'Facts matter and misinformation can have devastating real-world impacts' Expressing their concern about an opinion piece...
Read More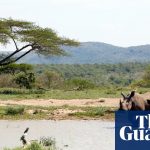 Celebrity power undermining global conservation efforts, scientists warn Finally, the voices of Africa's rural communities are being heard. Congratulations Alex Morss on an important article....
Read More
Research & Resources - recent papers
Resource Africa offers a comprehensive resource portal on the Research & Resources page for original research, relevant journal articles, book reviews, reports, news articles and periodicals. In collaboration with partner organizations, such as The Community-Based Natural Resource Management  Network, our website serves as an open access archive of current relevant published materials that deal with sustainable use, CBNRM, rights-based conservation.
Please click inside images to read recent and significant contributions to our library.
RESOURCE AFRICA NEWSLETTER RA ROUNDUP ISSUE 1
A newsletter about southern African CBNRM rural communities and their advocacy for sustainable natural resource use rights to be prioritized on the global conservation agenda.
In this issue we launch the Let Africans Decide video, showcasing the substantial impact the Community Leaders Network (CLN) is making on raising awareness of Community Based Natural Resources Management (CBNRM), introduce you to the revamped Resource Africa website and logo, and share news and resources on sustainable use, rights, and community conservation